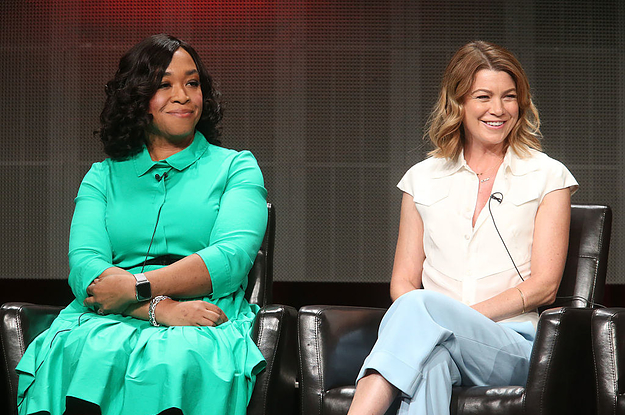 2.
Now, at 48 years old and after 14 seasons of Grey's, Pompeo said that she's "finally gotten to the place were I'm OK asking for what I deserve, which is something that comes only with age."
"Because I'm not the most "relevant" actress out there," Pompeo said. "I know that's the industry perception because I've been this character for 14 years. But the truth is, anybody can be good on a show season one and two. Can you be good 14 years later? Now, that's a fuckin' skill."
In addition to that, Pompeo will bring in another $6-7 million thanks to a seven-figure signing bonus, as well as a producing fee from the forthcoming Grey's Anatomy spinoff.
Pompeo also has other projects in the works, including an anthology show she recently sold to Amazon and a potential legal drama that could be picked up by ABC.
4.
Pompeo was extremely forthcoming when discussing how she's not "necessarily perceived as successful," though she says she's more in control than a younger actress who's in "a few big movies" and "probably being paid shit."
"And they're going to pimp her out until she's 33 or 34 and then she's out like yesterday's trash, and then what does she have to take care of herself?" Pompeo said.
"These poor girls have no real money, and the studio is making a fortune and parading them like ponies on a red carpet.
"I mean, Faye Dunaway is driving a fuckin' Prius today. Now, there's nothing wrong with a Prius, but my point is, she had no financial power. If we're going to invoke change, that has to be part of it."
6.
According to Pompeo, when Dempsey left the series, Grey's experienced "a ratings spike, and I had a nice chuckle about that." But, she said, the studio was determined to find a man to replace him.
"The ink wasn't even dry on his exit papers before they rushed in a new guy," Pompeo said, recalling how she was being badgered while on vacation in Sicily to decide on a new male costar. "I was like, 'Are you people fucking nuts? Why do you feel that you have to replace this person?'"
"I couldn't believe how fast the studio and the network felt like they had to get a penis in there," she added.
8.
During meetings with other Hollywood actresses for the Time's Up initiative, Pompeo said "sitting in rooms full of Oscar-winning actresses listening to how they've been preyed upon and assaulted is frightening," which is why she speaks up about being compensated fairly.
"It confirmed that my path really was the right one for me, because I've chosen to financially empower myself so that I never have to be ducking predators and chasing trophies," she said. "It's not for everyone. You have to be more interested in business than you are in acting."
10.
Finally, Pompeo honed in on gender equality in the entertainment industry, saying, "I don't believe the only solution is more women in power, because power corrupts."
"But there should be more of us women in power, and not just on Shonda Rhimes' sets," she said.
The actor said she loves taking her 8-year-old daughter to the set to "see fierce females in charge."
"She's growing up in an environment where she's completely comfortable with power," she said. "I don't know any other environment in Hollywood where I could provide that for her. Now I hope that changes … and soon."